Description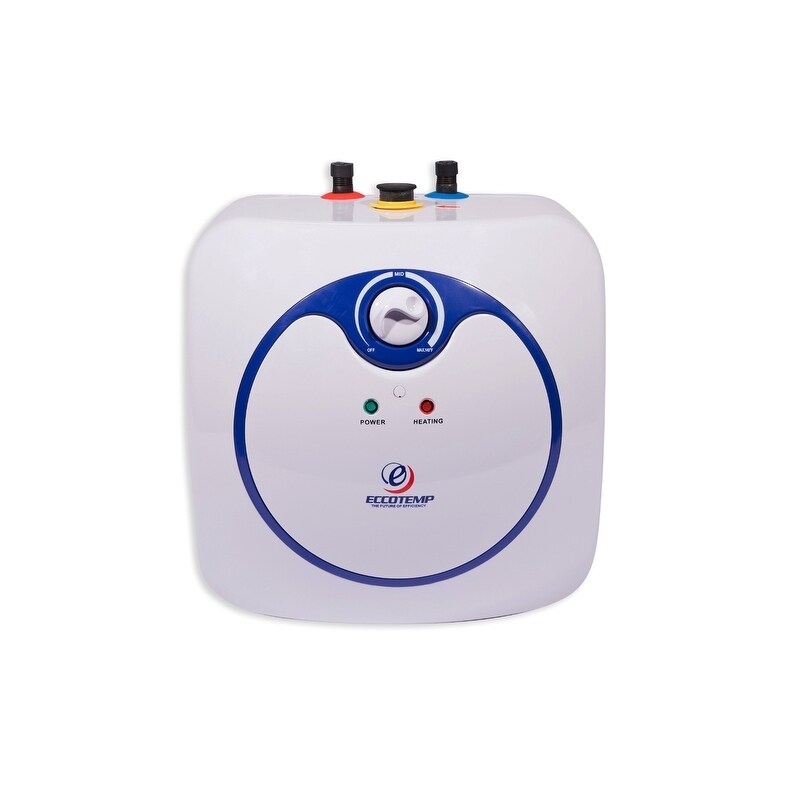 Eccotemp EM-4.0 Mini Storage Tank Water Heater
Product Description: The EM-4.0 can replace traditional central hot water heaters thereby conserving water and reducing energy waste. The EM-4.0 can also be plumbed in series with the central water heater and act as a booster. It is lightweight and compact and manufactured for easy installation. It can be mounted on the wall with included hardware, or freestanding and is designed to operate at 150 PSI maximum water pressure. Install a pressure reducing valve if your water pressure is greater than 150 PSI..
4.0 gallon capacity
Heating capacity of 1440 watts
Ideal for under the sink providing instantaneous hot water
Easy installation with 120 volt outlet
Wall and floor mountable
Hot and cold water feed
Adjustable temperature range from 50-140 F
Voltage110/ 120
Runs off 12 amps
Single phase
Max operating pressure of 150 PSI
Standard 1/2 inch NPT connections
T/P valve included
BrandEccotemp
Included itemsOne (1) water heater, users manual, mounting hardware, hardware pack
TypeMini water heater
FinishWhite
SettingsAdjustable temperature range
DisplayDial
Wattage1440
Capacity4.0 Gallon
ModelEM-4.0
Dimensions10 inches high x 19 inches wide x 12 inches long
Note
*All retailers not collecting sales tax from purchasers in Colorado, Kentucky, Louisiana, Oklahoma, Rhode Island, South Dakota, Vermont, and Washington are required to give the following notice: Although we, as the seller, are not obligated to collect sales tax in your state, this purchase is subject to sales tax unless it is specifically exempt from taxation. This purchase in not exempt merely because it is made over the internet or by other remote means. Your state requires that you file a tax return at the end of the year reporting all of your purchases that were not taxed and pay tax on those purchases. Retailers that do not collect Colorado, Louisiana, Oklahoma, Rhode Island, Vermont, or Washington sales tax, including ourselves, will provide you an end-of-year summary of your purchases to assist you in filing that report. You may contact your state's Department of Revenue for details on how to file this return. For purchasers in Colorado, Louisiana, Vermont, and Washington please note that we are required by law to provide your state with a report of the total amount of all your purchases from us at the end of the year.