Description
CarGuys Super Cleaner – The most effective All Purpose Cleaner available on the market! – Best for Leather Vinyl Carpet Upholstery Plastic Rubber and much more! – 1 Gallon Bulk Refill
---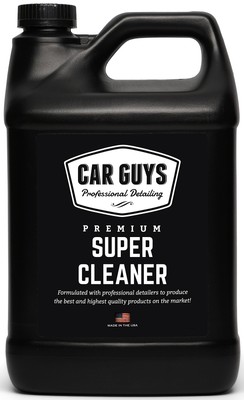 Product Details
Size: 128 Ounces (1 Gallon)
Brand: CarGuys
UPC: 762952133617
EAN: 0762952133617

Brand: CarGuys
Item Weight: 8.72 pounds
Package Dimensions: 11.1 x 6.9 x 4.1 inches
Manufacturer Part Number: SC-128OZ
Folding: No
Shipping Weight: 8.72 pounds
Date First Available: June 14, 2017
THE HYPE IS REAL! Are you tired of using cleaners that work, but not as good as you expected?! You wont experience that here! Our newly formulated multi-surface cleaner is made with the newest advancements in nano-technology to effectively lift away dirt and grime at the molecular level. No more wasting time and energy with nonsense products made with old science and technology!
REPLACE YOUR CABINET OF CHEMICALS! Do you get confused by all the different types of cleaning supplies that are available? It gets frustrating fast! Just cleaning your vehicle requires some special deep stain remover, a chemical solvent to get rid of bug and tar, a separate floor mat and inner dash cleaner.. and the list goes on and on! Keep it simple with CarGuys Super Cleaner… the KING OF ALL CLEANERS!
SUPER CLEAN ANY SURFACE! This multi surface product works on absolutely every interior or exterior surface except glass and delicate instrument panel screens! That means this ONE PRODUCT will clean upholstery, fabric, canvas, leather, vinyl, plastic, rubber, bird poop, grease, tree sap, metals, wood trim and so much more! This is the most versatile multi-purpose cleaner on the market!
WHAT IF IM NOT HAPPY? There is nothing on the market like this stuff! We believe that this is the ABSOLUTE BEST all around multipurpose cleaner on the market!! If you don't agree, there's no fine printing to read and no gimmicks here! Get in contact with us ANYTIME after your purchase and we will provide a FULL REFUND! So what are you waiting for?! CLICK 'Add to Cart' NOW, 100% RISK FREE!
Size:128 Ounces (1 Gallon) – FREQUENTLY ASKED QUESTIONS for Car Guys SuperCleaner –QUESTION: Is this only for automobile cleaning?ANSWER: No! This canbe used for cars, boats, and even your home! Clean furniture such as your sofaor carpet, outdoor accessories like a spa cover or sunbrella. Excellentboating cleaner spray for a vinyl seat or mildew! There are a variety ofapplications, the list would be too long!QUESTION: Does this require me torinse away with water after?ANSWER: No! Typical all-purpose cleaners containharsh chemical detergents that need to be rinsed off with water to preventdamage. CarGuys Super Cleaner is a newly formulated water-based polymerformula. It's safe, non toxic and does not need to be rinsed withwater.QUESTION: Does this contain UV protectant shine?ANSWER: No, it'sstrictly a cleaner. No residue or gloss is left behind, just leaves a new andsuper clean finish. If you want, you can apply CarGuys UV Guard or FabricGuard for the ultimate in UV protection.QUESTION: I'm still not sure, can thisreally replace all my cleaners?ANSWER: Yes! This will replace about 80% ofyour cleaning products if not more. Use to clean every type of surface EXCEPTfor glass and delicate instrument panel screens like your cluster ornavigation. Here's another list of some things you can clean:Carpet,Upholstery, Canvas, Awning Fabric, PU, Faux and Genuine Leather, Vinyl,Plastic, Rubber, Finished Wood Trim plus all types of Metals!For Interior,Exterior, Indoor, Outdoor, Car, Truck, RV, Motorcycle, Boat and Homeuse!Seats, Dashboard, Steering Wheel, Door Panels, Floor Mats, Trim, AwningCover, Wheel, Tire and Engine Bay Degreaser, Water Spots, Black Streaks, LoveBugs, Tar, Tree Sap and so much more!So what are you waiting for? Get THE BESTALL PURPOSE CLEANER today!!Our supplies for this product are extremelylimited. Buy Now! Exclusively available only on !