Description
Brita Small 5 Cup Metro Water Pitcher with Filter – BPA Free – White
---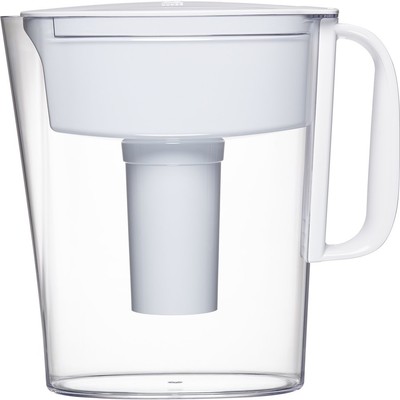 Product Details
Color: White
Brand: Brita
MPN: 060258360929
UPC: 735343434518
EAN: 0735343434518

Product Dimensions: 9.8 x 4.5 x 9.4 inches
Item Weight: 1.39 pounds
Shipping Weight: 1.45 pounds
Manufacturer: Brita
Item model number: 060258360929
SMALL WATER PITCHER: This small, clear plastic pitcher is designed to be space efficient and easily fit into narrow, tight places. Height 9.8"; Width 4.45"; Length/Depth 9.37"; Weight 1.39 pounds
CLEANER AND GREAT TASTING: The BPA free Brita filter reduces chlorine taste and odor, copper, mercury, and cadmium impurities found in tap water. *Substances reduced may not be found in all users' water.
FILTER INDICATOR: For optimum performance, a helpful electronic filter indicator tracks when your water filter needs to be replaced.
REDUCE WASTE: One Brita water filter can replace 300 standard 16.9 ounce water bottles.
REPLACEMENTS: Change Brita filters every 40 gallons, about 2 months for the average household for optimal performance.
Color:White Brita makes it easy to drink healthier, great tasting water forpennies per gallon. Brita Metro Series Water Filter Pitcher is BPA free, andreduces zinc, chlorine taste and odor, copper, mercury and cadmium, all ofwhich may be commonly found in tap water. For optimal performance, use theelectronic filter indicator to track when to replace the advanced filter. Thiswater pitcher features a locking lid for no fuss. Its compact, 5 cup capacitymakes this pitcher perfect for a small kitchen or office. Plus one waterfilter can replace up to 300 standard 16.9 ounce plastic water bottles,cutting down on waste and saving you money. Get great taste, less waste andmore savings from Brita.